Krissy -
Trying something different. A craft-y post, and textures.
Ooooh.
I see many things on
Pinterest
that I want to make but this one caught my attention. I love huge lanterns and lights that hang from the ceiling but of course they are way too expensive(for me anyways). When I found this tutorial I couldn't resist. Like I said, I found it on Pinterest but the post is from
Jones Design Company
.
I bought the styrofoam ball for $6 at Michael's, and she said she used 100 coffee filters so I bought 2 packs(just to be safe and thank God I bought two) of 100 for 89¢ a piece at Target. This was such an easy project but of course I made it the longest, most difficult project ever.
Separating and folding the filters was the most time consuming part. I also burnt myself multiple times with the glue gun.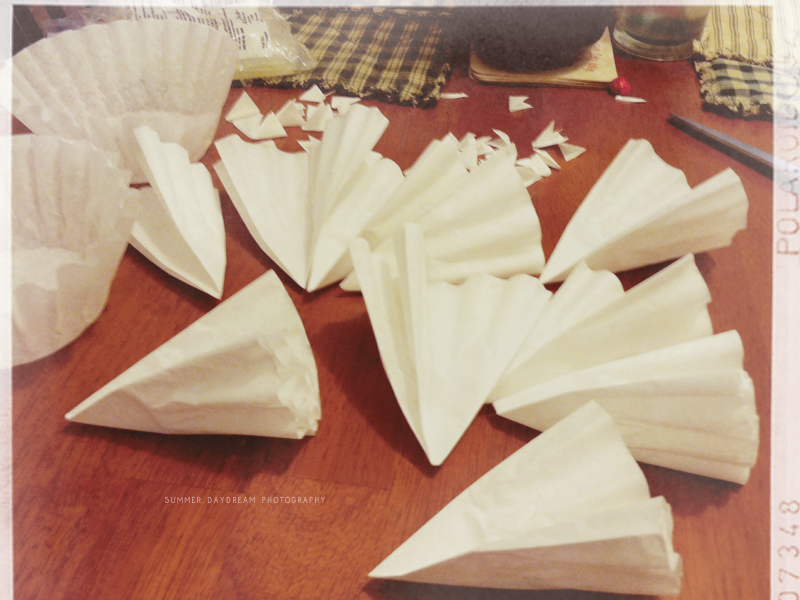 This is my ball....with about 100(or slightly over 100) filters on it and it's far from half full. Yeah. I put them
way
too close and had them folded too tightly. You can tell by how the edges are angled up and not straight out. I used my 200th filter and realized I needed more. I ripped the whole thing apart and started over. Luckily I was able to savage all of my filters though.
Here is the finished project. I'm not sure how many filters I ended up using but I would guess somewhere between 150-170.
I love how it turned out! I want to make a really big one to hang in my living room. I also thought it would be cute to cut a smaller styrofoam ball in half and cover the round side with filters and then hang a few on the wall. I think I'm going to buy red tissue paper and do it in my living room. :)